Production of

Host: Jeff Deaver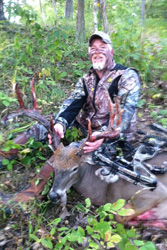 Jeff, an avid sportsman, is sole founder and host of X-treme Christian Outdoors (XCO); a ministry which the Lord led him to start and has continued to bless. With over nineteen years of experience in outdoor ministry, Jeff feels very blessed to be able to use his passion for the outdoors to share the Gospel of Jesus Christ.
The weekly show currently reaches over million households via TV and the internet. The ministry reaches out to special needs individuals, children, and adults who might not otherwise have the opportunity to enjoy God's great outdoors. These hunts are called X-treme Dream Hunts. Jeff is very passionate about these hunts, and he has seen thousands come to know Christ though this ministry.
In 2006, he surrendered to the call to preach the Gospel and was ordained in 2007. He served as an associate pastor until February 2013 at which time he yielded to God's call into full-time evangelism. In 2017 Jeff started thr Cross NG Church in Young Harris, Georgia. In addition, Jeff has been a certified Georgia hunter safety instructor for more than nineteen years. Jeff currently serves as chaplain for the Blairsville Police Department. He has also been involved in several mission trips, both in and out of the United States.
Jeff and his wife Michelle have been married for 28 years and have two children; Colton is 23, and Katlin is 26. Katlin and her husband Josh have two daughters, Allie 4 & Paisley 2.